Browse Firm Events
To view firmwide events in list format, go to Calendar > Browse Firm Events. This data-driven list format is especially useful for firms that find it necessary to print a list of events for internal meetings. Also, since MerusCase supports powerful, versatile filtering, this is a great place for large firms to easily focus in on a single day or location.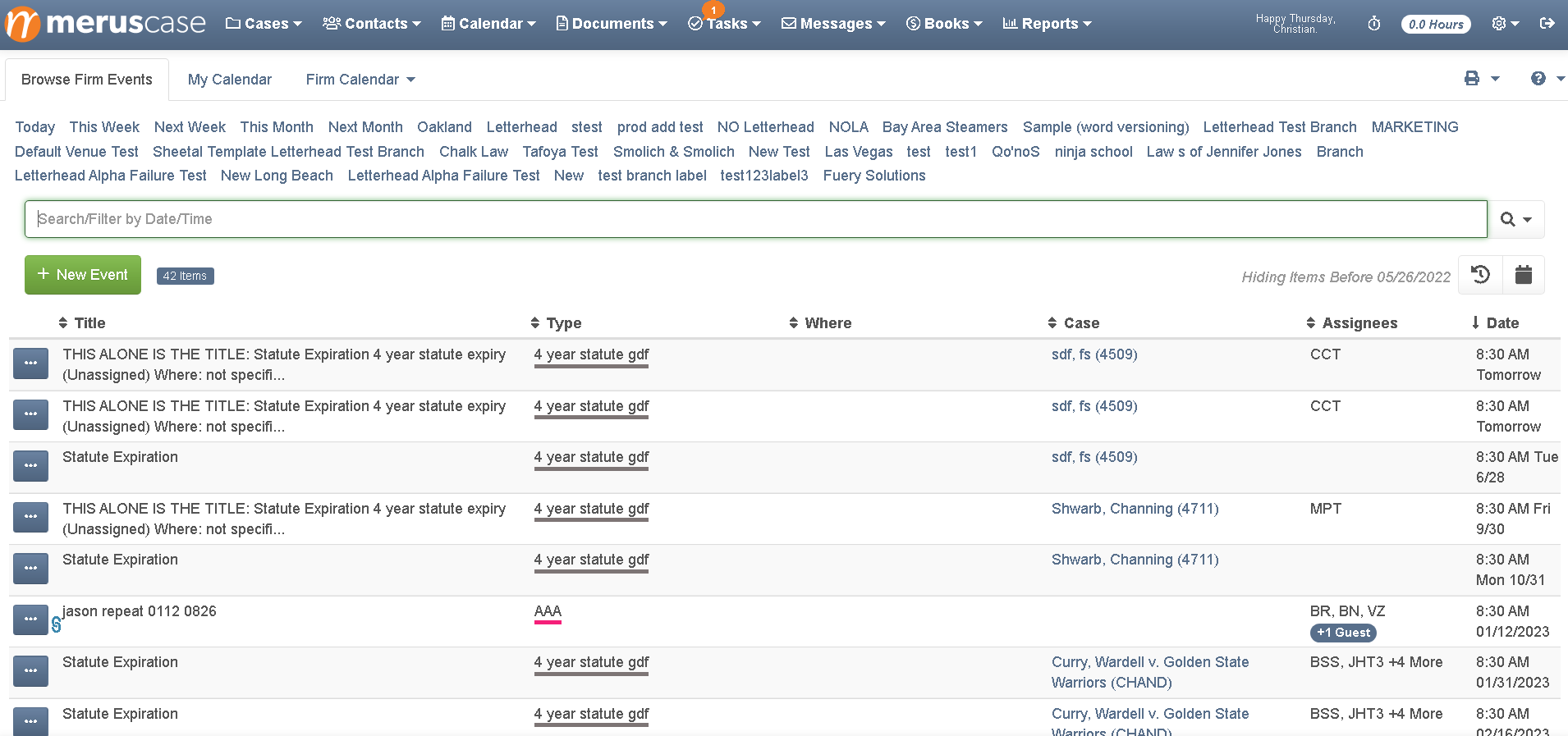 Filtering Browse Firm Events
Any table in MerusCase allows for filtering across any of the columns on your screen to provide the user a tailored list within the system. In other words, use the filter to quickly find a specific line item within the table.
Additionally, MerusCase supports the use of multiple filters at once. For instance, a user can search for all open (by the Case Status column) cases within Browse Cases and then apply a second filter to then search for Assigned to Me (by the Staff column) within those open cases.
To apply multiple filters, enter the first filter then click on the magnifying glass. On click, a drop-down window will appear. Click Add Filter and toggle what to filter by.
Select Always use this column if you wish to always use the same filter type. Many firms find it particularly useful to select this option when filtering for cases, forms, or templates.
Pro-Tip
MerusCase filtering has very powerful
Search and Filter Tricks
available to you, such as
Custom Filter Shortcuts
,
powerful keywords
,
Preset Filters
and even more!
To remove a filter, click on the added filter button (each applied filter appears as a button underneath the Search/Filter bar). For example, to remove the filter for open cases, click on the button Status: Open underneath the Search/Filter bar.
Quick Filters
Located above the filter bar are QuickFilters. When clicked on, the QuickFilter populates the filter bar with the chosen date range and finds all events applicable.
Additionally, there are Office Branch Location QuickFilters that allow a user to quickly see events assigned to just the main office or to a single satellite office.
© 2008-2020 · MerusCase
Last Updated 29 May 2020