Gmail Setup
To sync your Gmail account with Merus you need to make sure that you have 2 Step Verification turned on for your google account. You'll then need to set up an app password. Once you have those items set up in your google account we can now head to MerusCase.
To set up your incoming email account, follow the steps below.
Click on Tools & Settings on the top right-hand corner of the screen.

Click Email Setup to open the Incoming Email Accounts tab.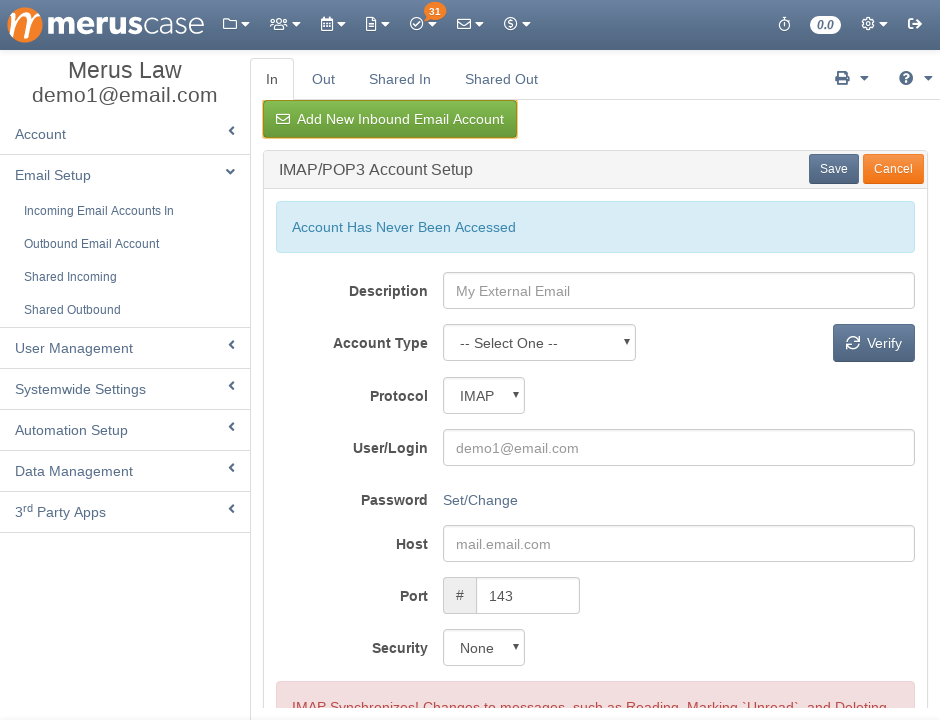 3. Click Add New Inbound Email Account to add a new email address.
Edit, Verify & Save
Enter the info and credentials for the email account you're syncing.

Description: Your identifier for the email address.

Account Type: This will fill in default settings for Port and Security; these may or may not need to be adjusted.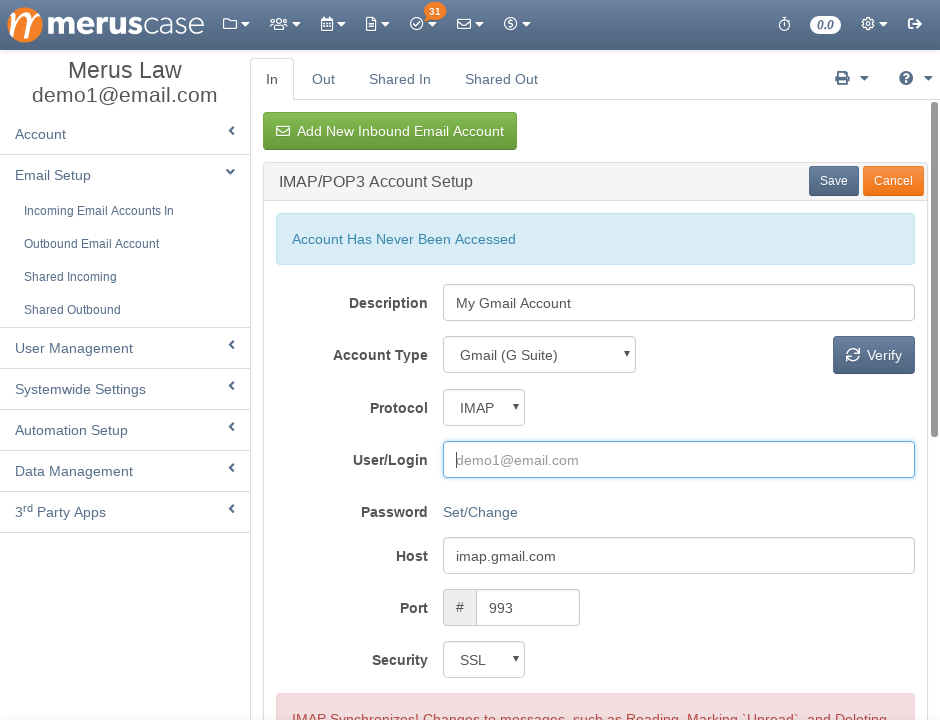 Protocol: Both IMAP and POP3 are available. Both of these protocols are methods used to sync your Merus inbox with your existing email account (Gmail, Outlook, etc.) however, a POP3 setup doesn't support usage on multiple devices and often leaves users with lost messages. On the other hand, an IMAP setup does support multiple devices, which means that when you read, delete, or edit an email message in your Merus inbox, those changes will be reflected when you access your email elsewhere. It is strongly suggested that all users choose IMAP over POP3 for a better user experience.

User/Login: Your email address. Note that there are some circumstances in which your User/Login information will not be your email address. Please contact your local IT resources to confirm these settings.

Password: Click Set/Change to enter the app password you generated for your google account.
Host, Port, and Security: These settings are to be confirmed with your local IT resource.

Now that you've entered all of your info, click Verify. If your settings are correct, you will receive a notification that says Verification Succeeded. MerusCase will now retrieve mail from your external account every few minutes.

Click Save to save these credentials.

Repeat for the outbound account and you have now fully synced your Gmail Account with MerusCase!