Activity Tags are like labels within MerusCase which help categorize and tag actions taken within a case (i.e. Case Activities). Using Activity Tags allows a user to quickly find a Note or Telephone Call seamlessly without having to skim through 100s of actions within a case.
There are many Activity Tags that are built into the system. These system tags are not editable and many will not be visible as an option when adding tags to an activity. Many built-in tags are used when an action automatically creates an activity within a case. For example, when creating a Court Form (and clicking save), the Activity Tag "Form Created" is automatically used to tag the activity created in the case.
Refer to Case Activities for documentation regarding adding an activity tag to a new or existing activity.
Creating a New Activity Tag
Not all law firms are the same. Therefore, not all Activity Tags will be either, which is why MerusCase allows each firm to setup as many customizable Activity Tags as necessary.
Pro-Tip
Although there is no limit to how many Activity Tags can be created, it is advised that a firm create tags methodically and sparingly so that your colleagues are not overwhelmed by an extensive list of options when tagging activities.
To add a new Activity Tag:
Go to Tools & Settings > Firm Setup > Activity Tags
Click on the New Activity Tag button.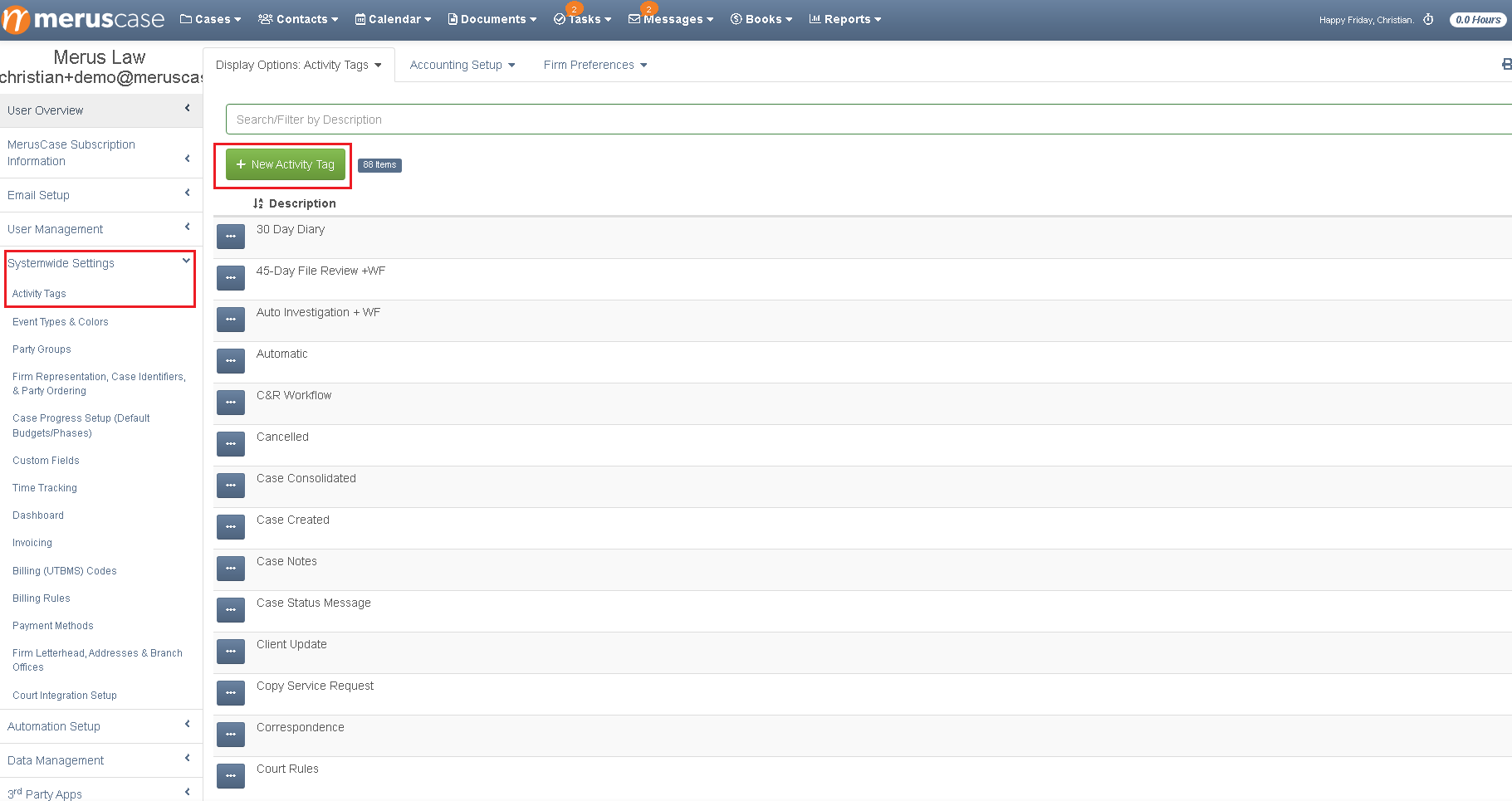 Enter a Description. The Description is what will be displayed as the Tag Name.

Click Save.
Editing an Existing Activity Tag
Click on the line item you want to edit.

Edit the fields as necessary and click Save.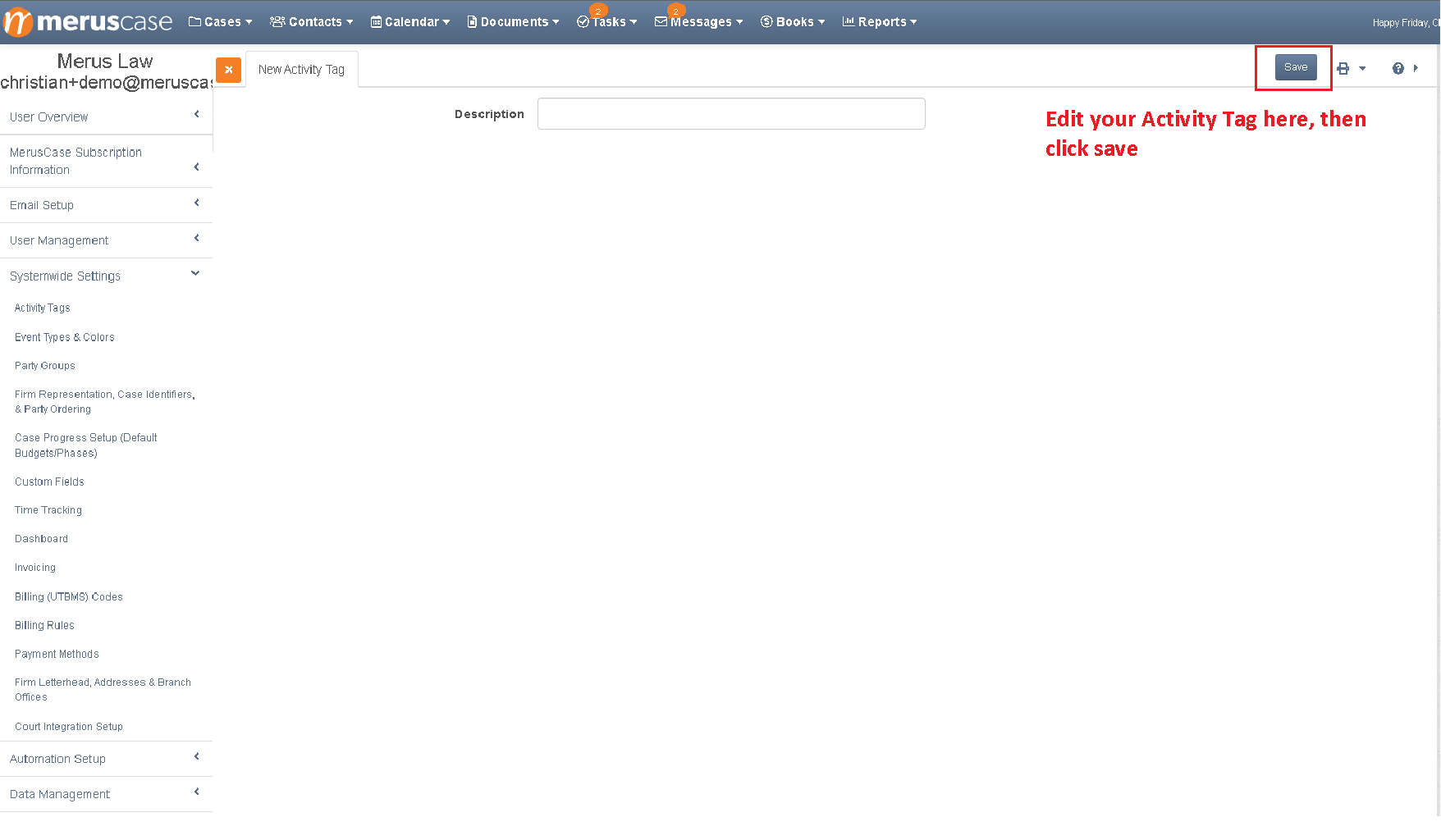 Deleting an Activity Tag
For many tables in MerusCase, there will be what's called a control column. The color of the control column will change based on the theme being used, but it will consistently display three dots in the form of an ellipsis.
This control column is where additional options for each line item will be.
To delete, click on the Control Column (displayed as three little dots) next to the desired line item and select Delete.
Generally, anytime a user deletes an item, a popup message will appear asking for confirmation from the user.
If the selected Activity Tag is not used within the system, the message will simply request confirmation to delete. However, if the selected Activity Tag is used within the system, MerusCase will force the user to select a replacement Activity Tag.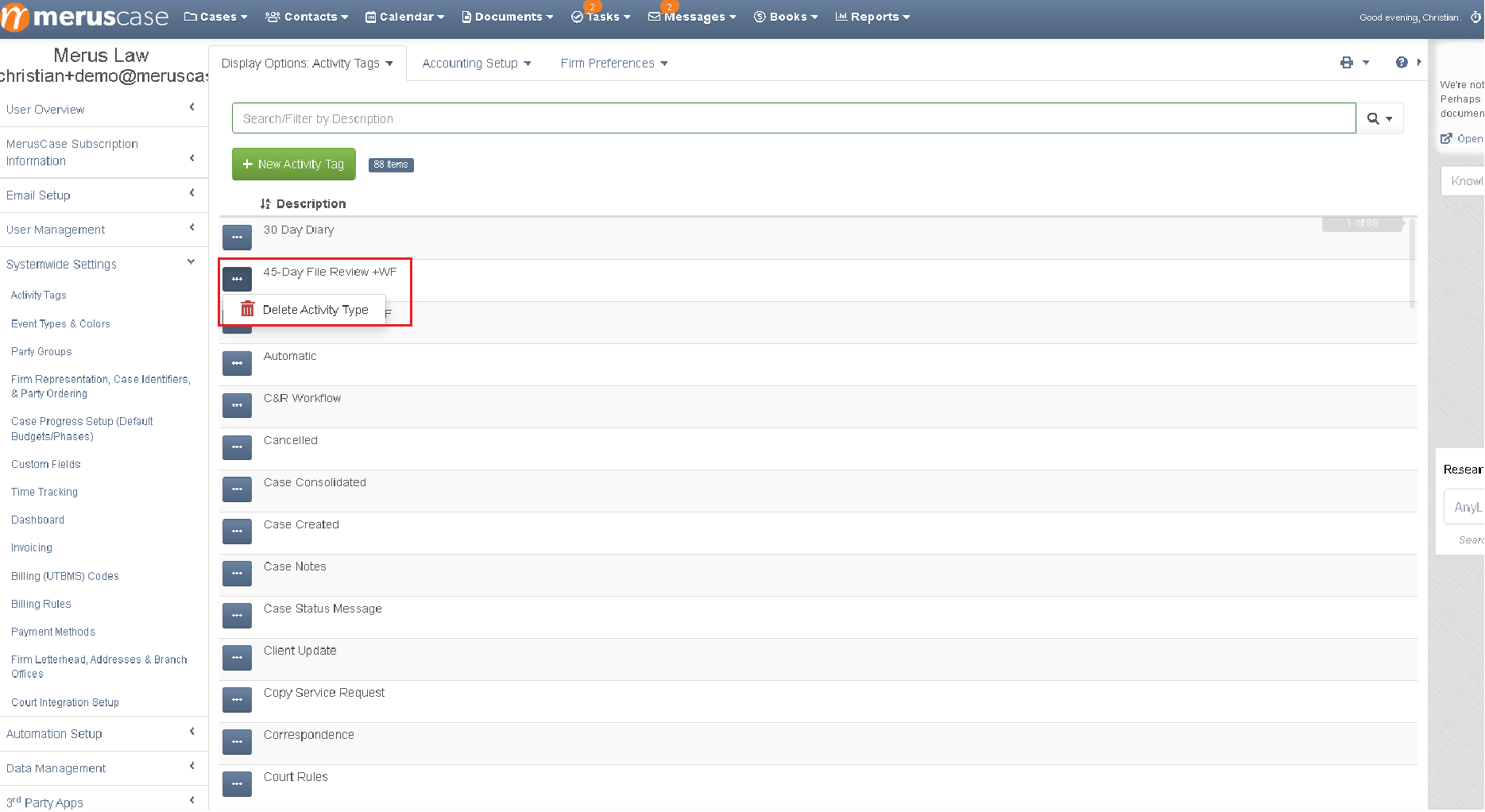 Filtering Activity Tags
Any table in MerusCase allows for filtering across any of the columns on your screen to provide the user a tailored list within the system. In other words, use the filter to quickly find a specific line item within the table.
Additionally, MerusCase supports the use of multiple filters at once. For instance, a user can search for all open (by the Case Status column) cases within Browse Cases and then apply a second filter to then search for Assigned to Me (by the Staff column) within those open cases.
To apply multiple filters, enter the first filter then click on the magnifying glass. On click, a drop-down window will appear. Click Add Filter and toggle what to filter by.
Select Always use this column if you wish to always use the same filter type. Many firms find it particularly useful to select this option when filtering for cases, forms, or templates.
Pro-Tip
MerusCase filtering has very powerful
Search and Filter Tricks
available to you, such as
Custom Filter Shortcuts
,
powerful keywords
,
Preset Filters
and even more!
To remove a filter, click on the added filter button (each applied filter appears as a button underneath the Search/Filter bar). For example, to remove the filter for open cases, click on the button Status: Open underneath the Search/Filter bar.