First Time Microsoft Office 365 Email Synchronization
Mail Sync Update Reauthorization
Frequently Asked Questions
Microsoft Office 365 Email Account Synchronization
The following describes how to sync your Microsoft email account with MerusCase.
After logging into your MerusCase account, select "Tools and Settings" in the top right corner.
Select "Email Setup."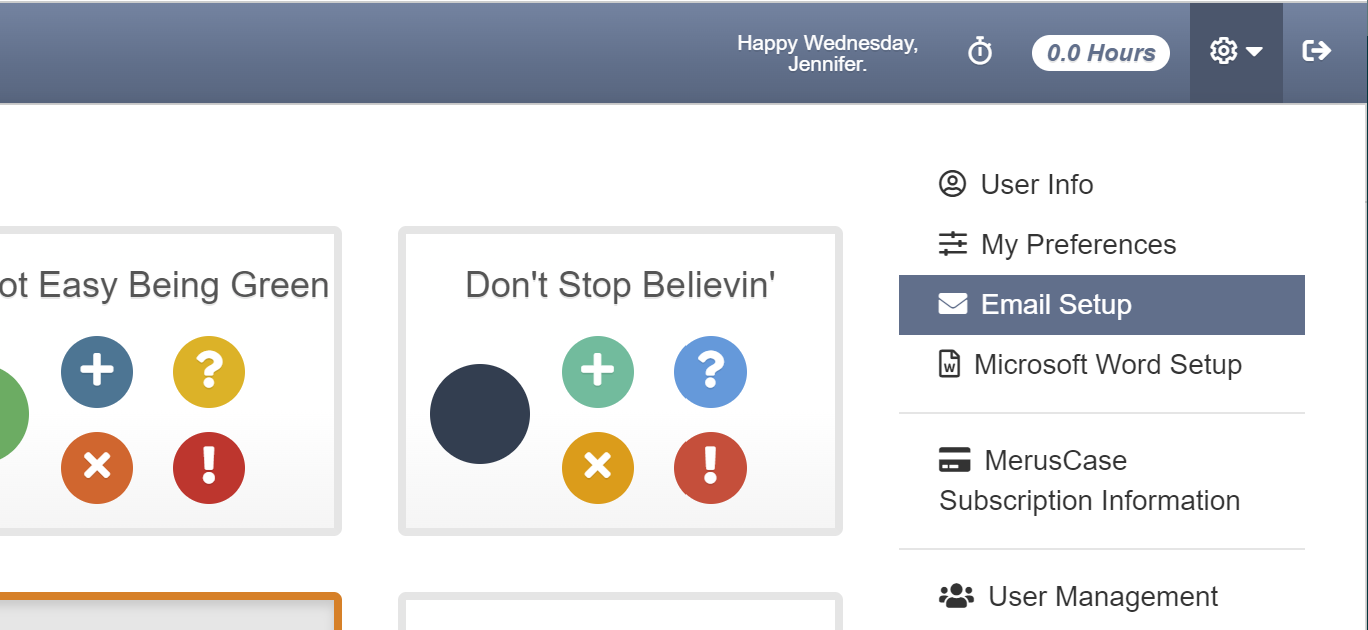 Step 1: Once inside the Email Setup Page in MerusCase, you will select "Microsoft" as the Account Type and confirm your user/login name. Click "Next"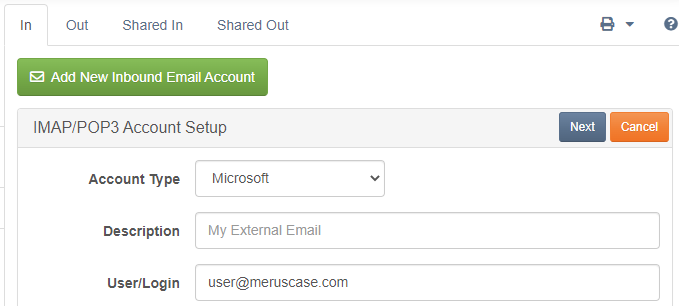 Step 2: You'll be prompted with a message that will redirect you to grant access to MerusCase. Click "Go to Microsoft"
Step 3: You will be redirected out of MerusCase to Microsoft, where you will sign in and agree to the terms as well as grant permissions to MerusCase. Click "Accept"
Once permission is granted, you will be directed back to MerusCase. We receive an authentication code, which we will convert to tokens that we can use to send or fetch your mail. You'll receive a confirmation box at the top of the screen that confirms authorization was successful.
Please note: There are tabs at the top of the Email Setup screen for both incoming email (inbound) and outbound email. To ensure a seamless experience, when you add a personal email account under "Incoming Email," the "Outbound Email" settings will automatically configure with it. However, if you're adding a shared email for the organization under "Shared Incoming," you'll need to configure the "Shared Outbound" settings separately.

Microsoft Office 365 Mail Synchronization Update - Reauthorization
MerusCase has updated the way we sync with Microsoft Outlook to better serve you. If you have an email address already set up in MerusCase, you simply need to click the "Reauthorize" button to get set up. This button will be located in three places: 1) On the dashboard; 2) in your messages inbox; and 3) in the email setup section under Tools & Settings. (See screenshots below.)
If you are not already logged in to your Office 365 Account, you will be redirected to do so. Once you have logged in, the new sync is set up and you do not need to take any further action.
If you experience any issues during this process, do not delete your Microsoft account and instead contact MerusCase Support.

On the Dashboard after logging in

Under "Messages" > "Inbox"
Under "Tools and Settings" > "Email Setup"
Frequently Asked Questions
Where can I access the Re-authorize option for my email?
There is a Re-authorize button within MerusCase that is required to set up the integration. This button will be located in three places:
On the dashboard
In your messages inbox
In the email setup section under Tools & Settings.


I don't currently have an email set up within MerusCase, how do I set this up with O365?
You can set up your email using the steps outlined below in this article


I don't have Microsoft Office 365, do I need to go through these re-authorize steps and does this change impact me?
No, but if you need to setup a different email type you can follow the instructions outlined in this article - Email Setup - Exchange Server, Gmail (G Suite), GoDaddy, Yahoo, and Other
I've reauthorized my email but I'm now missing emails from my Inbox, what can I do?
If you are missing emails after reauthorizing there's a good chance you will need to clear the cache on your browser (for all time). Please note that only the cache needs to be cleared and not your cookies.
If after clearing your cache (for all time) you still experience missing emails, please contact MerusCase Support.
For details on how to clear your cache follow one of these links, depending upon which browser you are utilizing: